STC Automation
STC-AT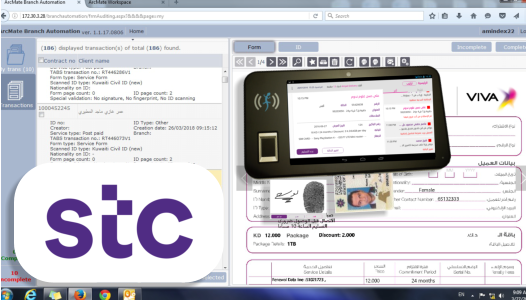 Project Description
In 2012; NVS-Kuwait has implemented the Branch Automation Solution; to automate the business process running in all STC Branches; in a paperless environment; in order to eliminate all the archiving process of the Postpaid Contracts (30% of Archiving Process).
Branch Automation is an in-house developed integrated solution that provides complete paperless environment for all direct and indirect sales branches, franchises and dealers that applies the company credit policy to guarantee accurate, quick, and validated transactions with electronic, signed and fingerprinted PDF forms. The solution is integrated with the archiving solution to archive the electronic forms automatically.
Dealer Automation System (DAS) that automates the prepaid cards sales process was introduced to the market in 2019 as well; to eliminate 70% of the manual prepaid contract archiving
Project Benefits
Prevents human-mistakes, missing required documents, and wrong activations.
Saves cost of collecting the contract hard copies and the cost of archiving (via Automation)
Avoid the penalties of lost contracts.